Zoe Lazarou Soteriou, Managing Director - IBRIC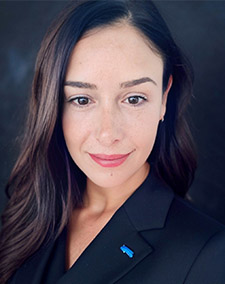 Zoe Lazarou Soteriou is the Managing Director of IBRIC, a company with an exceptionally strong regional network and with contacts in finance, business, local industries, government authorities and ministries, the police and local registries and chambers of commerce.

IBRIC is a specialized business intelligence company providing assistance with private investigations and Due Diligence Investigations in Europe, the MENA Region and the Balkans region according to client's requirements.

Our areas of expertise include asset investigation, background investigation, civil investigation and criminal investigations, corporate investigation, financial investigations, IP Investigations and due diligence investigations.
Biographical Highlights
Zoe Lazarou Soteriou is an Economic Science graduate of the Aristotle University in Thessaloniki, Greece with post graduate courses in Risk Management.
Zoe has been based in Cyprus, working as an International Sales Manager with Infocredit Group as well as Regional Manager and Quality Department Supervisor.
She has written articles for financial newspapers and was a participant in many international conferences for the purpose of regional expansion.
She has set up her own company, IBRIC, in 2010 and presently, IBRIC is performing its on-ground services in various areas and also serving all kind of private investigation services successfully.
We deal each and every case with fine skills and calculate each case with complete confidentiality and take into consideration private investigations ethics. Please contact us on [email protected] for a free to requests for assistnace and support.
Memberships
Exclusive Investigative Due Diligence member of INTERNATIONAL REFERRAL in Cyprus
Member of British Agents Member
Member of the International Association for Legal Research and Investigators (I.A.L.R.I.)
Member of the National Association of Investigative Specialists (N.A.I.S.)